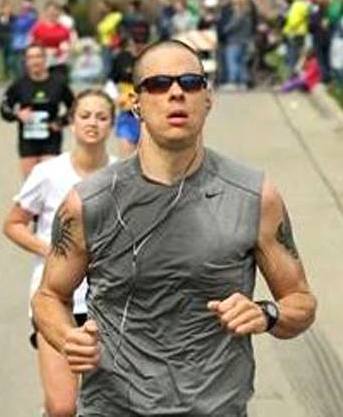 Mike (230 Pounds Lost)
Newspaper Article: Daily Mile

Biography:

I grew up in Illinois and Wisconsin with a love for all sports. I was always a "big guy", but was able to balance it out by being active. When I attended college I majored in three things; football, beer, and pizza. However, when my playing career ended my eating and drinking did not taper. In four years after college I gained 150 pounds, toping out at 450.
My tipping point was Christmas, 2010. My father-in-law had a major heart attack and I saw how upset my wife, her siblings, and all the grandchildren became watching a loved one suffer. It took me a few weeks to get started, but by the end of January 2011 I started a diet of 1500 calories a day, plus 6 days of exercise.
I started out slow with 10-15 minutes on the elliptical, but it took very little effort to start losing weight. By May 2011 (4 months later) I had lost 100 pounds. I had just turned 29 and set a goal of losing another 100 pounds by my 30th birthday. The weight continued to melted off and my cardio improved, I felt athletic again.

Later in the summer of 2011 I got the idea that I would run a half marathon. My sister-in-law recently finished a 8K and I figured if she could do it, I could. Without running more than a mile I signed up for my first half marathon that fall. I trained by running 3-4 days a week on a crushed stone trail near my home. With the help of some friends I ran and finished my first half marathon that fall in 2:15 at around 315. I was hooked instantly and went home to register for my first full marathon.
In May of 2012 I had accomplished my goal and lost 200+ pounds. I also completed my first marathon (Minneapolis) in 4:30 at around 245 pounds. After that day I was proud of my accomplishment and told myself I would never do it again...
As of May 2014 I have lost 230 pounds, completed 13 Half Marathons (PR 1:28) and 9 Full Marathons (PR 3:15).